Old Salt – Content Update 0.3.3 (AI version 1)
Calling all Fleet Captains! I need help to test the new AI intent system.
This system is a precursor to a fully functioning AI player. The current AI can only set up it's game board and will need you to play for it, for now.
To help:
1. Start a game (Version 0.3.3) with an AI player
2. Play as the local and computer or play hot seat with someone else.
3. After you sail or attack the intent of the ship is calculated, click on the ship to display the mini status screen seen below.
4. When ever the intent is incorrect please press the "~" key and submit feedback on your real intent for that game piece.
5. This feedback is important for us as we begin to create the single player campaigns and want to create an engaging change to match our exciting stories!
6. Test keys are available, please contact me.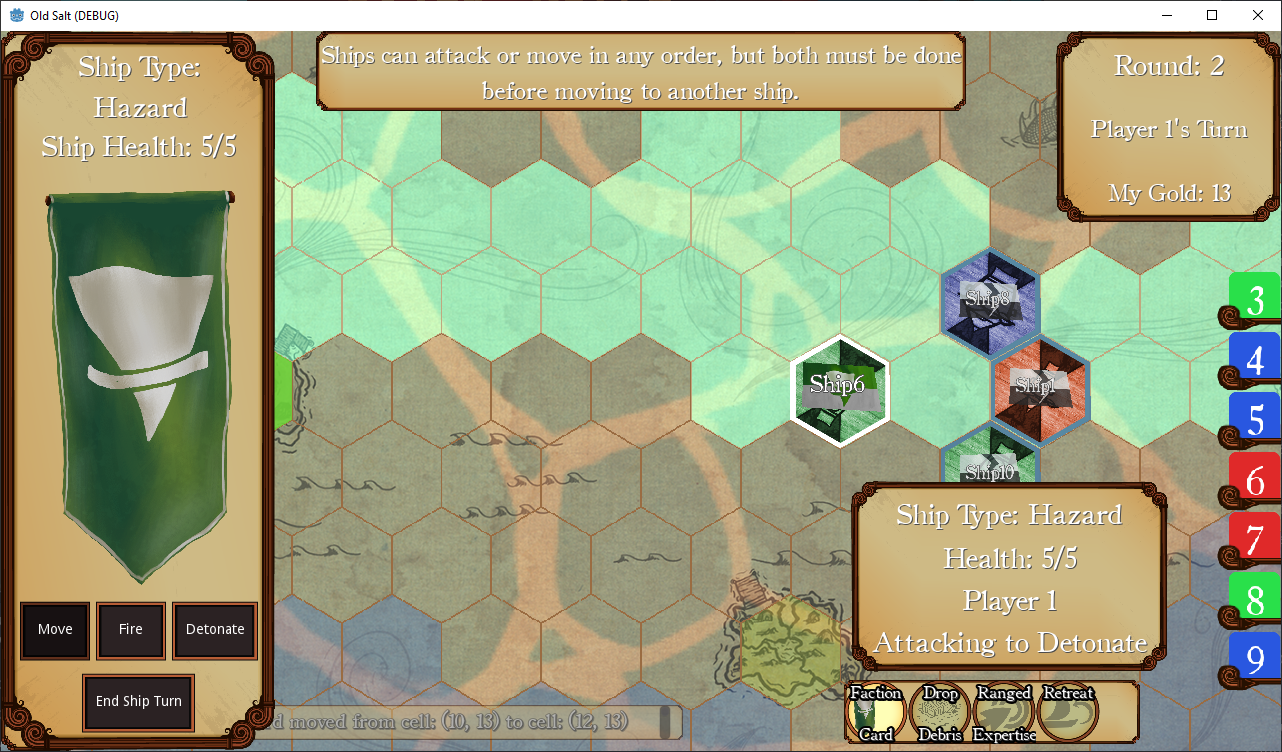 Patch Notes – Version 0.3.3:
New Features
AI Intent and AI blackboard added
Random Faction option added
AI game setup controller added
Improvements
Islands now have animated Faction Flags
Ships are orientated in a Docked position on placement
Detonate is now animated
Ships now highlight and grow larger when focused in the unit display
Multiple faction games now have different base colors
Ships are labeled, Not finalized
Ship animated Flags are now unique
Bugs
Transcended ships can no longer claim islands
Transcended ships not appearing on unit select fixed
Islands claiming not showing up fixed
Peer to Peer load in camera bug fixed
Memory leak on cannon fire fixed
Dice window alignment fixed
Auto end turn detection fixed
Unlimited Sailing bug fixed
Load error with Peer to Peer and AI player fixed
Audio loop bug fixed
Mouse stuck in pan map mode fixed
Mitigate on full health disabled